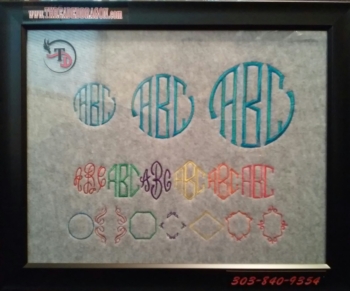 Threaded Dragon can create beautiful custom monograms on just about any medium that you could conceive. Often for custom monograms, you will think of the most traditional of applications like family linens or table linens, but with our large variety of thread colors and highly versatile embroidery machine you can definitely think outside of the box!
(Seat covers for your hot rod or bike, perhaps?)
Our monograms can be fully designed with your individual touches in mind and as long as you pay to make the digital file for our embroidery machines, there is no minimum order! That means if you'd like to create a one-off piece for a gift for a loved one, we can help.
Call us today for that reasonably priced monogram service that you've been looking for. Remember there is no minimum order and we offer FREE pick up and delivery within the Denver Metro area! Theaded Dragon can help you with all of your custom monogramming needs, we're local and don't force you to buy multiple pieces just to get an order done. Call us today to find out if we can help you! 303-840-9354.