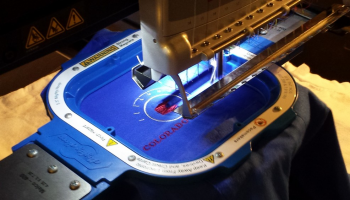 Do you need T-shirts for a special event? Stylish uniforms or Polo Shirts for sports teams or employees? Colorful hats displaying your company logo to advertise your business or to promote a non-profit event? Embroidery can enhance your professional attire while displaying your logo or design with elegance and class. Let Threaded Dragon Custom Embroidery and Digital Printing create a fashionable product for you.
Picture how beautiful your logo or design could be displayed on any type of garment, jacket, hat, bag, blanket or towel. Visit our website and browse our catalog of national name brand products and/or bring in your own items to have them professionally embroidered. We guarantee a quick turnaround and we take pride in the detail and quality of our work. At Threaded Dragon No project is too small – we will professionally embroider your design if you only need ONE or a HUNDRED.
Embroidery is similar to printing but uses needle and thread instead of ink or toner. Your design can come to life by changing the color of thread, adding 3D Puff or Appliqué. Embroidery creates an impression of quality and style. It's long lasting, reasonably priced and provides a professional look to your garment or item.
Embroidery can Personalize or Customize:
Anniversary, wedding or baby gift
Table Napkins, Baby Blankets or Clothing
Promote your business or organization with T-shirts, Hoodies, Caps, Jackets, Aprons, Smocks, Scrubs
Team wear Jerseys, Uniforms, Sport Bags
Fundraisers for schools / non-profit organizations
Create a special gift
All designs or logos used in embroidery must be converted to a "digitized" or electronic format so the machines can transform the design into a stitch file to sew it on your item. Email your logo or design to us at threadeddragon@gmail.com and one of our experienced customer service professionals will contact you to discuss your embroidery needs. File must be in an OPEN .jpg or .pdf format.
There is a setup fee associated with this "digitizing" process which is determined by your design size and complexity, but it is usually a onetime fee. Cost associated with embroidering your design on an item is usually calculated by the number of stitches ($1.30 per 1,000 stitches minimum of a $6.25 charge per item) plus the cost of the item if ordered through us. Once we have received your payment we will begin working on your order and email you when it is ready for pick up. Orders normally take approximately 10-14 Business Days to complete from the date of final approval of the proof and payment. If a shorter timeframe is required, a rush fee may be applied to your invoice.
Our Melco Bravo 16 needle embroidery machines use the latest OS/v11 software with Design Shop Pro+ v10 to provide state of the art capability to embroider your design. We use high quality polyester threads which are color fast, long lasting and durable. We stock a variety of thread colors at our location and have access to additional color selections if required. Our friendly staff is always available to answer your questions and assist you in choosing your garment and thread color. Call us today at 303-840-9354.